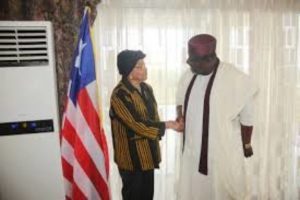 The Liberian President, Ellen Johnson-Sirleaf, is in Owerri, the Imo State capital, southeast Nigeria for a two-day visit.
Sirleaf will be at the Rochas Foundation to meet with students this Friday, after which she is expected to deliver a lecture at the Imo International Convention Centre on the topic "Women in Politics".
Johnson-Sirleaf's visit is to meet students of the Rochas Foundation especially Liberian students whose parents died of Ebola.
She will also be expected to key into Vision 2030 of Rochas Foundation College, targeted at taking one million African children out of the streets and educate them.