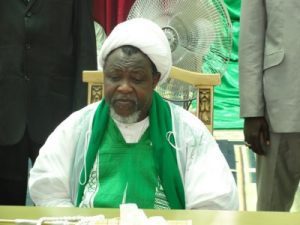 The leader of the Islamic Movement in Nigeria, Ibrahim El-Zakzaky, has been arraigned before a Kaduna High Court amidst tight security.
The appearance marks the first time the Shiite leader would be tried in public since his arrest and detention in December 2015.
El-Zakzaky was charged with unlawful gathering, criminal conspiracy and culpable homicide, which are punishable by death.
Heavily armed security personnel blocked all roads leading to Bida road, where the court is situated.
The people, especially members of the IMN used the day to again demand for the immediate, and unconditional release of their leader.
The case was adjourned till June 21, 2018, based on the application by the prosecution for more time.