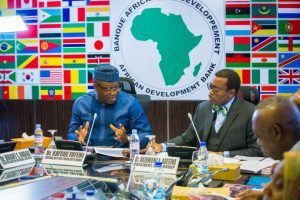 The African Development Bank (AfDB) is to provide technical and financial support for Ekiti State Government to upgrade its infrastructure.
This is the  highlight  of a high level meeting between the Ekiti State government team led by Governor Kayode Fayemi and the AfDB President, Dr Akinwunmi Adesina at the organisation's headquarters in Abidjan, Cote d'Ivoire at the weekend.
A statement by the Chief Press Secretary to the Governor, Yinka Oyebode identified projects  the AfDB is will support to include, reconstruction of Ado Ekiti – Akure Federal highway, the proposed Ekiti Cargo Airport, the Ekiti Knowledge zone and the agriculture processing zone.
Speaking at the meeting, Governor Fayemi said that his administration decided to seek AfDB's support for the projects that are crucial to the infrastructure and industrial development of Ekiti State so as to improve the fortune of the state and reposition it as a destination of choice for investment and create jobs.
According to him, Ekiti State needs to upgrade its infrastructure and invest in agric business, which will in turn provide jobs for its teeming population of youths.
The AfDB President, Adesina Akinwumi said that the bank is excited about the plans for job creation, especially for the youth and the plans to improve the stock of infrastructure.
A follow up meeting is scheduled to hold in Ado Ekiti soon.