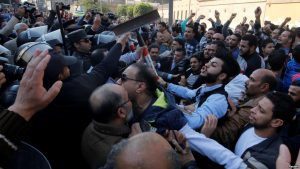 Egypt's chief prosecutor on Monday referred 555 terror suspects to a military court on charges of joining a local affiliate of the Islamic State group.
The suspects set up dozens of small militant cells and carried out a total of 63 attacks against army and police forces in the restive northern part of the Sinai Peninsula, prosecutor Nabil Sadek said in a statement.
The charges against them, he said, include killing and plotting to kill security personnel, attacking military checkpoints in Northern Sinai and sabotaging a gas pipeline between Egypt and Jordan.
Only 216 of the 555 suspects are in custody, the statement said.
Also Monday, a criminal court in Cairo sentenced nine suspects to life in prison on terror-related charges.
The Giza Criminal Court sentenced another two defendants each to five years on the same charges, which include joining the Islamic State group. The court also acquitted three suspects in the case. The verdicts can be appealed.
An IS affiliate based in northern Sinai has carried out attacks across Egypt in recent years, mainly targeting security forces and the country's Christian minority.
Egypt has been battling Islamic militants for years, but the insurgency gathered steam and grew deadlier after the 2013 ouster by the military, then led by President Abdel Fatah el-Sissi, of Mohammed Morsi, an Islamist president. Morsi was Egypt's first freely elected leader whose one year in office proved divisive.
In February, Egypt's security forces launched an all-out offensive against militants, deploying tens of thousands of troops and police backed by fighter-jets, helicopter gunships, navy vessels and tanks in Sinai and in the Western Desert, along the border with Libya.