Education has been identified as a solution to the problem of early marriages in Africa. This position was made known by wife of the President of Nigeria, Dr. Mrs. Aisha Muhammadu Buhari while receiving female delegates of the Africa Parliamentary Union, at the State House, Abuja on Wednesday 7th November, 2018.
Mrs. Buhari said girls need a healthy and safe transition to adulthood as well as a certain level of maturity and understanding in order to make an informed decision on the choice of a life partner.
Mrs. Buhari was represented by wife of the Vice President, Mrs. Dolapo Osinbajo.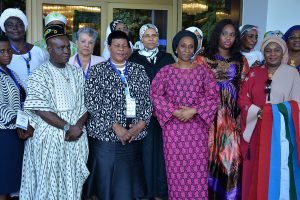 She called on the parliamentarians to use their position to articulate measures that will address the issue within cultural sensitivities of our different communities. She also urged them to consider what form of support and empowerment could be given to girls that are already in these marriages.
Speaking earlier, head of the delegation and Senate President of Zimbabwe, Hon. Mabel Chinomona said women face numerous challenges like lack of political representation, violence, intimidation, early child marriages, and lack of equal opportunities in critical areas. It is therefore
The delegates are in Abuja for the 41st Conference and 73rd Executive Committee Session of Africa Parliamentary Union.
Those that attended the event include Senior Special Assistant to the President on National Assembly Matters, Senator Ita Enang, APC Woman Leader, Mrs. Salamatu Bewa, and Chairman NACA, Mrs. Pauline Tallen.