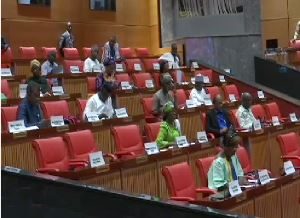 Parliamentarians at the ongoing ECOWAS first session meeting have expressed worry over the 2019 constitutional bill amendments of Senegal that scraps the country's office of the prime minister.
Their concerns were raised as the country presented its report on the floor of the parliament in Abuja.
The ECOWAS Parliament sessions continue, and countries are giving reports of progress made so far especially in fulfilling the ECOWAS protocols and the SDGs.
The reports harp on economic growth, health, education and security measures taken by each country.
The parliamentarian representing Senegal is subjected to a barrage of questions on his country's report presentation especially the scrapping of the position of Prime Minister. But he explains that the position of the Prime Minister is not an elective position
Liberia and Sierra Leone in their reports say they have made progress in the area of increasing school enrolment. Guinea Bissau also says the gender parity bill is before its National Assembly and would be signed this month.