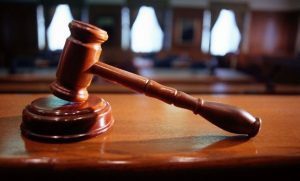 Senator Dino Melaye has appeared in a magistrate court in Abuja, over an accusation he broke the windscreen of a police vehicle taking him to Kogi State.
He's also charged with threatening to kill himself and intentionally implicating police in the death.
Melaye appeared in court in a stretcher, but journalists weren't allowed to go into the court.
The presiding magistrate adjourned the case to June the 6th for trial, but not before granting bail of 90 million naira to the senator.
He is also to provide two sureties, deposit his passport with police and report to the police every first working day of the week.