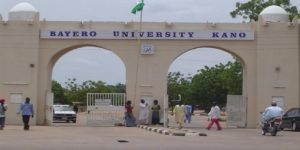 Aliko Dangote has perfected plans to donate N1.2 billion structure to the Bayero University, Kano (BUK) Business School. The building which will be handed over to the university management formally next month is a state of the art edifice, and will effectively mark the commencement of study of business in the institution and the first in the Northern part of Nigeria.
It would be recalled that Dangote is also building a similar business school in the University of Ibadan and would be commissioned anytime soon.
The Business Schools being undertaken by the Aliko Dangote Foundation, according to the President of Dangote Group is part of the efforts to build entrepreneurship in the sub-consciousness of Nigerian through education at the highest level.
He explained that the situation Nigeria has found itself necessitates revisiting school curriculums to reflect the new consciousness of entrepreneurship and manufacturing and efforts made to encourage study of business especially at the second level in the university.
When visited, the building which has been completed and awaiting commissioning, is a modern Business School within the premises of Bayero University, Kano. It comprises of auditoriums, lecture theatres, offices, classes, library, and complete electrical fittings and cooling system, amng others
Speaking on the gesture, Professor Murtala Sagagi, the BUK Dean of Faculty of Dangote Business School, said that there was no Business School in Bayero University, Kano (BUK) until Dangote started the project.
"We have an ambition to have a business school and we could not go ahead with the project because there was no befitting structure to accommodate the kind of dream we had but with Dangote coming in about five years ago and that was when the University decided to say this is the time to have the business school," he said.
He noted that Kano is the second most vibrant commercial city in the country after Lagos, saying "we have industries, Banks, different type of businesses, micro, small, medium and large enterprises.
"We are having large scale investors from China, Spin and all over the world coming to Kano to make investment and this means the State needs an institution, a kind of faculty, school that can able to develop the capacity not only the management of those organisation but those people who are working in different units or department within the organisation.