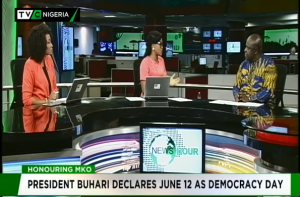 TVC's head of News and star-guest on flagship prgramme, Journalists' Hangout, Babajide Kolade-Otitoju, has described as the declaration of June 12 as the new democracy day by President Muhammadu Buhari as the "best gift to all pro-democracy fighters in Nigeria".Otitoju stated this Wednesday night in Lagos while responding to questions on TVC's #Newshour  @10pm.
The blunt and versatile journalist, who said he is happy with the decision, queried why Obasanjo, who was a direct beneficiary of the sacrifices made by the pro-democracy fighters, failed to recognise and accord the day the honour it deserves throughout his 8 years in office as president.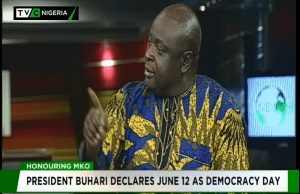 "Well I'm happy, that's the best way to describe they way I feel. It will amount to some exaggeration if I say I am excited because only few things make me happy in our country. Yes, I am happy. As a Nigerian who witnessed the event of June 12, and as a young journalist who covered the election, I saw Abiola defeat Bashir Tofa in the polling unit in front of his house at in Kano. I saw Abiola posed remarkable victories in nearly all states in northern Nigeria, an emphatic victory. It was a happy day, because Nigerians put religious sentiments aside and voted for a Muslim-Muslim ticket as against the Muslim-Christian ticket as represented by the National Republican Convention, NRC. We've all expected  that Abiola would become president, but some military officers pilled pressure on Ibrahim Babagida, the president at that time and he kept on delaying the announcement until June 23rd, officially, they told us that the result has been annulled.
Reacting to why the President Buhari chose to make the announcement few months to 2019 general election, Otitoju said: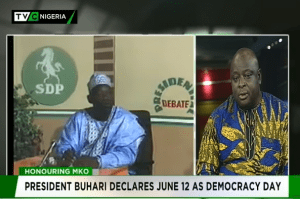 "My answer is why not now? I won't blame the president for doing what the presidents before him refused to do, and in the heart of many people in the Southwest, former president Obasanjo remains a disappointment because they expected him to make June 12 democracy day. Appeals were made to him (Obasanjo), recommendations were made to him, but Obasanjo's nature ensures that he sees so much being wrong in anybody from this part of the country moving close to his stature. Remember even when the whole world want Abiola's mandate restored, it was this Obasanjo who went to East Africa, to say…"that Abiola that you people are talking about is not a messiah o"… So, it is not a surprise for people like me to see that he chose not to honour the memory of June 12. This same Obasanjo went to jail, people like Kunle Ajibade, Beeko Ransome-Kuti fought for Obasanjo when he was in detention. The stories that we wrote, designed to help Obasanjo out of detention, eventually sent some of our colleagues to prison. Kunle Ajibade was locked up in Makurdi prison, Beeko Ransome-Kuti was locked up in Katsina prison. But what did Obasajo do? Immediately he came out prison and became head of state, he gave himself state pardon, unconditional state pardon. But all of those people that went to jail because of him, he did not think they deserve presidential pardon, and on the day Beeko died, here in Lagos, Obasanjo never sent a message of sympathy to the family. So, I am not surprised that Obasanjo chose not to honour the memory of June 12. It is consistent with his character to do that."
Speaking further, Otitoju said going by the situation of things in the country presently, there is need for the president to ensure he plays his politics well.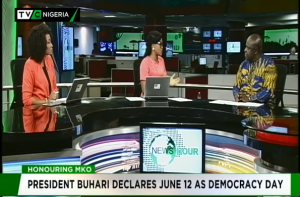 "Now, whether we like it or not because it is fair in politics, the president is going through some heat at this time, he has to really do the right thing at the right time. Elections are coming, this election will be tougher than that of 2015, and the Southwest is going to be the main battle ground, because some of the votes of the northwest will be shared. This time around, the candidates are coming from the north, and it is even possible that two or three of the candidates would come from the northwest. So, as things stand now, by INEC record, southwest has the second highest voter registration, less than 4million to the northwest number, which means there is so much to bid for in the Southwest. So the president is doing everything now to appease to the sentiment of the people of the Southwest. He knows that it's crucial for him to retain the support base in the Southwest, because the support base in the Southwest enabled him to win the 2015 election, and he knows that numbers are diminishing in the north-central, so he has to focus on keeping his support base in the Southwest, and he has benefited from good advise from some of key leaders of the party from Southwest. I tell you, this decision sees well with a lot of our people in the Southwest."
Speaking on why May 29 was even chosen as democracy day or whether it has played down on the significance of independence day, the Kogi-born journalist said only Obasanjo  can explain the reason why he chose May 29 as democracy day.
" Before 1999, May was not known in our history. Every leader tries to pick up a day and make that day significant. Remember even Babangida literally made the day that he took over very significant throughout his reign. That day was very significant in the heart of everyone. Obasanjo chose May 29, but you know our people rebelled against that date. Look at a state like Osun, which has consistently continued to celebrate democracy day on June 12. They rebelled against May 29, at least under Ogbeni Rauf Aregbesola, and even when Mimiko was governor in Ondo state, he continued to honour the memory of Abiola on June 12," Otitoju said.

Otitoju however, ruled out the possibility of upturning Buhari's declaration by his successor. He said any government that seeks to remain relevant, would not want to do such because of the concentration media hub in the Southwest.