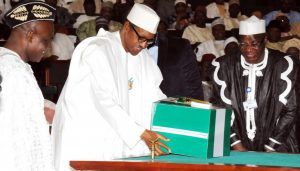 President Muhammadu Buhari has signed the 2018 Appropriation Bill into law. Buhari, put a signature to the bill on Wednesday at the Presidential Villa in Abuja, the Federal Capital Territory, Abuja.
The President had submitted a budget proposal of N8.612 trillion to the National Assembly in November 2017. The lawmakers had, however, increased the proposal by N508 billion, bringing the total figure to N9.12 trillion.
The National Assembly passed the budget six months after it was sent by the Executive.