The death toll from Brazil's collapsed mining dam has risen to 65, with 279 people still missing .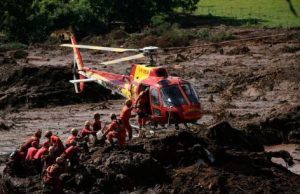 Hundreds of rescuers from Brazil's military and foreign rescue teams joined the search and rescue efforts on Monday.
Spokesman for the Minas Gerais Fire Department said they are still making an all-out effort to look for survivors, but acknowledged that the chances of finding more survivors from the Jan. 25 dam disaster are slim.
Brazilian Vice President Hamilton Mourao on Monday, announced that the government would investigate the accident and punish anyone found responsible for the disaster.
According to demands of different judicial departments, it is estimated that 11.8 billion reals (over 3 billion dollars) of Vale's assets will be frozen to ensure payment of compensation.