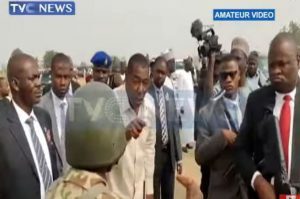 The Nigerian Army has promised to carry out investigation into the allegation of extortion of commuters by its personnel in Borno.
A statement by the Nigerian Army Operations Media Coordinator, Col. Aminu Iliyasu, said that Nigerian army as a professional and disciplined institution viewed such allegations seriously, particularly coming from a governor.
He assured the residents of Borno State and indeed the nation at large that any allegations of misconduct against its troops will be duly investigated and culprits will be dealt with accordingly.
ALSO READ: Furious Borno governor accuses soldiers of extortion
He added that such outburst was capable of reversing the gains recorded so far in the ongoing fight against insurgents and other criminal elements across the nation.