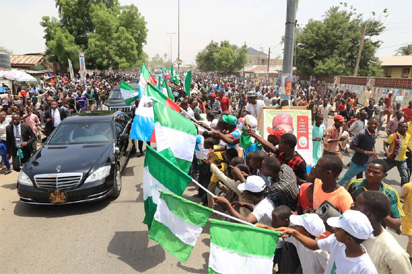 The All Progressives Congress (APC) has announced new dates for its congresses and national convention.The ward congresses will take place on May 5, the local government congresses May 12, and those of the states May 19.
The national convention has been moved from May to June, on a date that is yet to be announced.
The ward, local government, and state congresses were earlier scheduled for May the 2nd, 5th and 9th, but the APC's National Publicity Secretary, Bolaji Abdullahi said some governors asked for a review, because of the Muslim fast which will start next month.
Spokesman of the party, Mallam Bolaji Abdullahi in a brief statement Friday in Abuja however said, "the date for the National Convention in June will be announced later". The party also announced new dates for its 2018 Ward, Local Government Areas and State Congresses. They are: Ward (5th May); LGA (12th May) and State (19th May).