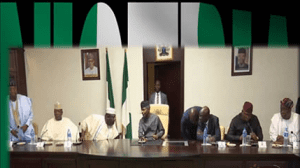 The Imo State Governor and Chairman of APC  Governor's Forum Rochas Okorocha has affirmed that the soon to be held APC convention will go ahead whether or not President Muhammadu Buhari is in attendance.
He disclosed this to Journalists after he led the APC Governors and deputy Governors into a closed door meeting with Acting President  Yemi Osinbajo after the National Economic Council meeting at the  Presidential Villa.
Okorocha emphasized that they had come to discuss with the Acting President, issues relating to the APC government and to see how they can move their party forward and how they will remain victorious as the ruling party.
He dismissed notions that  the recent resurgence of the People's Democratic Party could constitute a threat to the APC, pointing out that the Party was roundly defeated by the APC when they were in power.