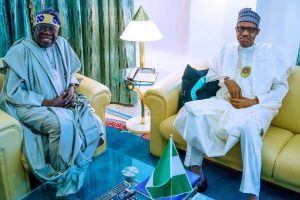 The national leader of the All Progressives congress, Asiwaju Bola Tinubu, on Tuesday, visited President Muhammadu Buhari at the Presidential villa for the first time this year.
The National leader said the visit is not unusual but customary especially to celebrate the new decade.
Tinubu told state house correspondents who wanted to get his view on the pressure on President Buhari to pick a successor, that the task of nation building should take priority over the search for a successor in 2023.
He said  Nigeria has just finished one election and the president is sorting out the budget and working for the country. Any lover of the country will not begin to talk about succession now.