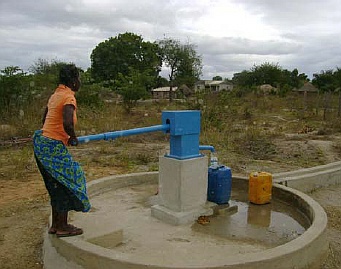 Ondo State Government has rehabilitated more than 700 boreholes and sunk another 200 new ones in seven local Government Areas. The chairman of the State Rural Water Agency, Yetunde Adeyanju disclosed this in Idanre, where more than 70 boreholes are being rehabilitated.
TVC's Ayodeji Moradeyo reports that the hilly town of Idanre, is the seventh community, where officials of Ondo Rural Water Agency, carried-out rehabilitation of damaged boreholes.
The boreholes, which were neglected by previous administrations, are now functioning effectively.  Apart from rehabilitation, the agency is also constructing new ones.
A total of seven hundred boreholes have been rehabilitated so far, while over two hundred new ones have been sunk by the agency. It is now the turn of people of Idanre to feel the impact of government in this direction.
The people of Alade Idanre expressed delight to have new boreholes, through the Kamomi Aketi initiative of the State Government. Yetunde Adeyanju, is the chairman of the agency.
Adeyanju said more communities will benefit from the Kamomi Aketi initiative. The rehabilitation is expected to be extended to other council areas soon.