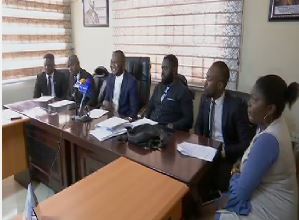 A Coalition of public interest groups has asked that all aspirants vying for positions in the National Assembly should be properly scrutinised by security agencies.
The group is worried about what happened during the 8th national assembly where some lawmakers were faced with corruption charges and still held on to their positions.
Correspondent Habidah Lawal reports that on the 23rd of February, Nigerians in various part of the country went out to different polling units to elect a president and lawmakers that will represent them in the 9th National Assembly.
Those elected will replace members of the outgoing 8th Senate and House of Representatives.
The 8th National Assembly, will be remembered for many things, particularly various controversies that revolved round it
This group is worried that those that will be incharge of affairs of the 9th assembly should be individuals that will uphold the interests of the masses instesd of pursuing their personal gains.
Those who are supposed to be public servants, and to project the hardships and challenges Nigerians go through are in fact the ones who are far removed from these realities.
The country will have a responsive and accountable government if the investigative arm, is well structured and devoid of interference.