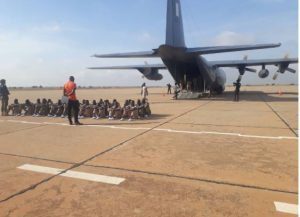 Fresh batch of 586 former Boko Haram fighters to undergo de- redicalisation and reorientation before they are reintegrated to society.
A military plane carrying the former insurgents landed in Gombe in the early hours of Friday.
The de-radicalization program codenamed operation safe corridor under the defence headquarters focuses on reforming former insurgent.
This is the single largest batch of former combatants to be reformed since the operation began in 2016.