The film and television industries in Hollywood will practically shut down after actors expressed their intention to join the ongoing strike by screenwriters, the industry's largest walkout in more than 60 years.
The Screen Actors Guild (SAG) is requesting better working conditions and a more equitable profit split from the biggest streaming services.
Around 160,000 performers will end their shifts at midnight. A significant portion of US film and television productions will halt as a result of the strike.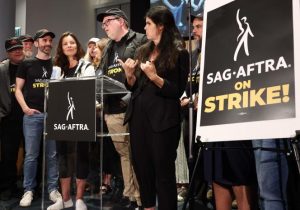 As the strike was announced on Thursday night in London, actors Cillian Murphy, Matt Damon, and Emily Blunt departed the Oppenheimer premiere.
The SAG walkout begins at midnight in Los Angeles (08:00 BST). Picketing will begin outside Netflix's California offices on Friday morning, before going on to Paramount, Warner Bros., and Disney.
The Screen performers Guild-American Federation of Television and Radio Artists, or SAG-AFTRA, also wants assurances that artificial intelligence (AI) and computer-generated faces and voices will not be utilised to replace performers.
The Alliance of Motion Picture and Television Producers, a studio lobbying group, condemned the decision.
The AMPTP said that it had accepted a "ground-breaking proposal" to address concerns about the usage of AI. This plan would safeguard performers' digital likenesses and demand their permission before using or altering them in performances.
Another SAG demand of the streaming services is that actors receive greater base pay and residuals – meaning payments made to actors from repeats of films and programmes they've starred in.
The strike includes tens of thousands of actors who receive significantly less pay for bit parts than their A-list colleagues.
Fran Drescher, SAG's president, said the strike comes at a "very seminal moment" for actors in the industry.
A separate strike by the 11,500 members of the Writers Guild of America demanding better pay and working conditions has been going since 2 May.
In the hours following the announcement, several SAG-affiliated actors took to Instagram to voice their support for the strike, including Better Call Saul star Bob Odenkirk, Sex and the City's Cynthia Nixon and Hollywood veteran Jamie Lee Curtis.