The death toll from the earthquake in Turkey and Syria, which is currently close to 30,000, will "double or more," according to Martin Griffiths, the UN's emergency relief coordinator.
Griffiths landed on Saturday in Kahramanmaras, a city in southern Turkey, which was the epicenter of the first 7.8-magnitude earthquake that rocked millions of people's lives on Monday.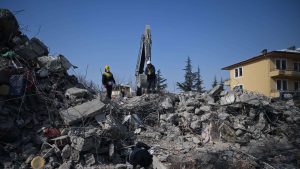 With every passing moment, hopes are fading for those trapped under wreckage in Turkey, Griffiths said, adding that rescue efforts were now in their final stages in Syria.
"They say 72 hours is the golden period (for rescues)," Griffiths said.
"But just now they have pulled out someone alive, an hour or two ago. It must be incredibly difficult to decide when to stop this rescue phase and move into the next phase, which is also going to have its problems," he added.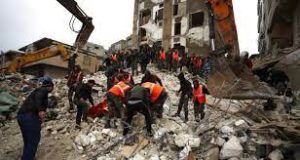 A confirmed overall death toll of 28,191 has been reported, with 24,617 deaths in Turkey and 3,574 in Syria, according to government and medical personnel.
Millions of people are now in critical need of assistance, and tens of thousands of rescue personnel are sifting through wreckage and destroyed neighborhoods while working in subzero temperatures.
According to Turkey's disaster agency, more than 32,000 disaster management specialists from Turkish organizations have been sent to the impacted areas to assist with search and rescue operations.
Apart from the national rescuers, there are also 8,294 international rescuers present.
"Soon, the search and rescue people will make way for the humanitarian agencies, whose job is to look after the extraordinary numbers of those affected for the next months," Griffiths said in a video posted to Twitter.
Around 26 million people have been affected by the earthquake, the World Health Organization (WHO) said as it launched a flash appeal on Saturday for $42.8 million to cope with immediate and overwhelming health needs.