Following a request from Belgian authorities probing a corruption scandal that has shaken the European Parliament, two members of the European Parliament (MEPs) had their legal protection withdrawn by European parliamentarians.
Andrea Cozzolino of Italy and Marc Tarabella of Belgium both denied any wrongdoing.
The Qatargate affair unfolded when a Greek lawmaker and three other suspects were arrested on suspicion of corruption and money-laundering.
In exchange for a plea bargain, one of the suspects subsequently volunteered to "tell all."
According to allegations, Pier Antonio Panzeri oversaw a network that accepted bribes from Morocco and Qatar in exchange for influence over the European Parliament. A series of raids in Brussels and Italy netted over €1.5 million (£1.3 million) in cash.
Accusations that Qatar and Morocco attempted to sway MEPs have both been vehemently denied. Prosecutors claimed that Mr. Panzeri had acknowledged "criminal responsibility," nonetheless.
When Belgian police detained the four suspects last month, Mr. Tarabella's house was searched. Then, the prosecution requested that both Mr. Cozzolino's and his immunity from prosecution be lifted by the parliament. Both men belonged to the Socialists and Democrats party, which represents the center-left in the parliament.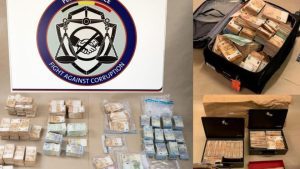 The voting took place quickly and quietly as MEPs opened a meeting of the European Parliament on Thursday morning. As the information was read out, MEPs simply raised their hands.
Marc Tarabella attended the vote himself, making his way through a scrum of reporters as he headed into the chamber. Afterwards he told me he had voted to waive his immunity in order to "be able to respond to the investigators' questions and help authorities shed light on this affair."
According to the parliament report on Mr Tarabella, he is suspected by investigators of backing "certain positions within the European Parliament in favour of a third country in return for cash payments" for two years. Testimony against him suggests several payments totaling €120,00-€140,000, the report adds.
Of course I deny any wrong," Asked if had ever taken money to influence proceedings in the European Parliament he said: "Never in my life!" Reports said.
The parliament's report on his Italian colleague cites investigators alleging participation in a criminal organisation and money laundering. Mr Cozzolino's lawyers said last month that he was innocent and that he had carried out political activity in a "free and transparent way, having nothing to do with the crimes being investigated."
He resigned last month as head of the parliament's delegation that works with the Maghreb nations, including Morocco.