New Zealand has started to assess the damage caused by significant flooding, landslides and high winds that left four people dead and displaced thousands from their homes as Cyclone Gabrielle moved away from the country.
Gabrielle, which reached New Zealand on Sunday before making its way down the east coast of the North Island, cut off entire towns, washed away farms, bridges and livestock, and inundated homes, stranding people on roof tops.
At a televised media briefing on Wednesday, Prime Minister Chris Hipkins said, "Our immediate priority has been executing lifesaving operations for those affected by the floods who needed to be saved." He added that all persons trapped on roofs by flooding have been rescued.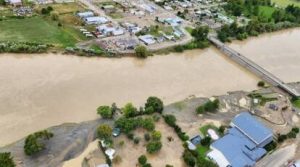 He urged people to wait until they were given the all-clear before returning to their houses, saying that even if the weather was getting better, the situation was still risky.
Hipkins confirmed on Wednesday that four people had died including a volunteer firefighter who responded to a call out and was caught in a landslide on Monday.
With around 1,400 people unaccounted for since the cyclone crisis began, Hipkins said roughly 1,100 have been reported found and there is likely to be considerable crossover between the two lists.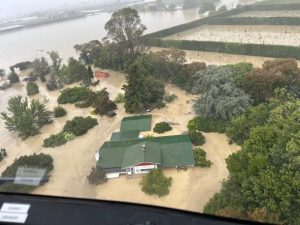 However, he added that police hold "grave concerns" for several missing people.
Residents in hard-hit areas are now being asked to conserve water and food because of fears of shortages after the cyclone forced New Zealand on Tuesday to declare a national state of emergency for only the third time in its history.
Authorities estimate more than 9,000 people have been displaced so far, with around 3,000 housed in temporary shelters.
According to Hipkins, the New Zealand Defence Force has deployed over 700 personnel, four aircraft, seven helicopters, and two naval ships to assist in the rescue of those stranded by the floods and the delivery of essential supplies to isolated towns.
Domestic and international flights have resumed, though airline schedules may be disrupted for several days, according to a tweet from Auckland Airport on Wednesday morning.