Members of APC Youth in Borno have unveiled a door-to-door campaign in their quest to deliver massive votes for the party in the coming 2023 general election.
The youths say if Professor Babagana Zulum is voted back in office, Borno would soon regain its lost glory as the home of peace.
The carnival like rally, also had in attendance Students, market women, community and word leaders adorning different colours of insignia bearing Governor Babagana Zulum.
Armed security personnel, led by Nigeria Police, Nigerian Security and Civil Defence Corp and Civilian Joint Task Force are providing protection and security for residents and participants.
These large number of supporters are out to unveil a door-to-door campaign for the party and as well show their solidarity to the present administration.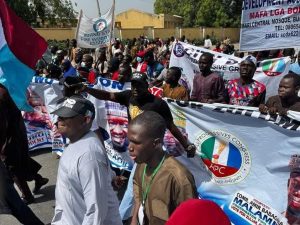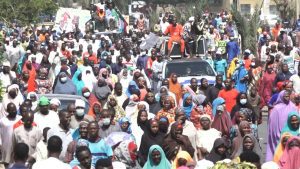 Convener of the march Shetimma Mustapha , said the initiation was to galvanise two massive votes for APC in the 2023 general elections.
"We are out here to sensitize residents on the need to vote APC, this is because Governor Zulum has shown doggedness, resilience and selfless leadership. The state has had its best in the last three years as a result of his tireless effort"
According to him, many states are craving to have Zulum as Governor because of his style of leadership and that is why they vow to vote APC for good leadership.
The group march through the streets of Maiduguri, continually chanting solidarity songs and holding placards with a bold message "VOTE APC FOR GOOD GOVERNANCE"
Women were also not left out as they took to the streets to show their unflinching support to the Governor.
The All progressives Congress Deputy women leader of MMC, Hajiya Hauwa Ali attributed some of the assistance the Governor gave to women in the state.
"We are out today to show our unwavering support to Governor Babagana Zulum, this is because he has transformed the lives of women especially with livelihood support."
"The women of Borno have seen the impact of Zulum's leadership. He has given hope to the widows, provided scholarships to our orphans and always making us smile" she added.
Members of the APC Youth say they will ensure they reach all the nooks and crannies of the state capital to further mobilize support for APC's Success in the 2023 General Election.