A group under the auspices of All Progressive Congress Christian Campaign Organisation in Zamfara, says it is working closely with Christians in the state to vote for the APC Presidential Candidate Asiwaju Bola Ahmed Tinubu and Governor Bello Matawalle
The group says their decision to support the former Lagos state Governor to succeed president Muhammadu Buhari in 2023 is based on his track record and love for the christians
In an exclusive interview with TVC NEWS in Gusau, Chairman of the group Joel Abaver said Ahmed Tinubu is a Nigerian with a difference and does not consider religion as a barrier for prosperity and Development
This is not the first time christian groups in Northern Nigeria are drumming support for the APC Presidential Candidate Asiwaju Bola Ahmed Tinubu ahead of next year's General Election
This group known as APC Christian Campaign Organisation says they are working closely with other christian groups and individuals to vote for all APC Candidates
The group says they will ensure All Progressive Congress Candidates win at all levels irrespective of the Muslim-Muslim ticket of it's Presidential Candidate
"We as christians decided to Support Bola Ahmed Tinubu's presidential candidature because we know he will lead Nigeria to the promise land" Dr. Abaver said
"Tinubu is one of the most respected politicians in this country and has proven his capability to restore the lost glory of Nigeria's economy" he added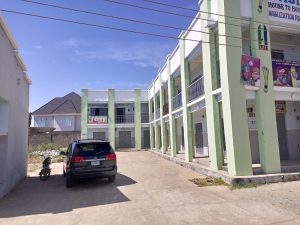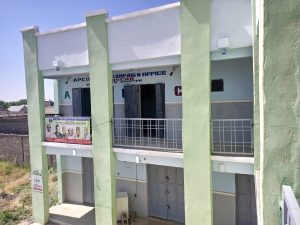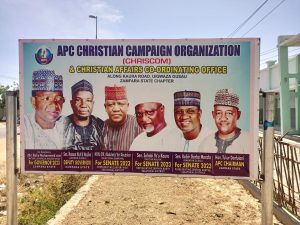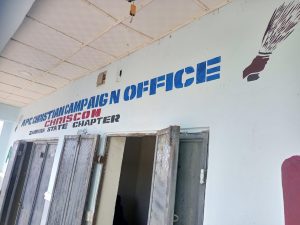 " Our association has been in contact with Christians in Zamfara to join others in supporting the APC by voting all Candidates under the platform"
"We have coordinators across the Fourteen Local Government areas of Zamfara State and they are all working round the clock to ensure Victory for the Asiwaju Bola Ahmed Tinubu, Governor Bello Matawalle and other Candidates under the platform of APC"
But, the group is worried that little or no assistance is coming to help it pursue its activities especially as election draws nearer
"We are yet to receive a penny from any Politician or group. We have been using our personal money for all our activities" Dr. Joel Maintained.
"We paid for the office accommodation from our pockets, furnish it and doing other things for Asiwaju Bola Ahmed Tinubu and Governor Bello Matawalle without any financial assistance" he cry out.
" During the Formal opening of this office, most of the key Politicians in Zamfara state were invited but none attended and the few that attended made promises that are yet to be fulfilled"
"We are calling on the Tinubu support group and the APC Presidential Campaign Council to consider grassroot movement like ours so that we can be motivated to do more" Dr. Joel appealed.
On his part, the assistant Secretary of the AOC Christian Campaign Organisation Bala Jonathan enjoin all Party members and Nigerians to join in the quest for Victory for the APC and shun any form of Electoral Violence before, During and after the election
" I wish to appeal to our members to redouble efforts at all level by selling all APC Candidates" Bala said.
"To our youth, I want to remind you that politics is not a do or die Affairs, let us embrace peace and conduct our self in a peaceful manner during and after the electioneering Campaigns"
The APC Christian Campaign Organisation is the first Christian group to drum support for any Political party in Zamfara state.