The Zamfara Police command has confiscated a truckload of hard drugs, foodstuff and other consumables meant for delivery to bandits in Dangulbi – Magami axis in Zamfara.
Eight suspected bandits, including a female Informant were arrested while bandits attacks were repelled in three Local Government Areas. Four rifles, 250 rounds of live Ammunition and nine rustled Cattle were also recovered
Despite relentless efforts by Government and security agencies to restore Peace in Zamfara, some Communities and Highways remains soft targets for the bandits.
Funtua – Gusau- Sokoto Highway was in the last few days attacked by bandits leading to the abduction of Persons who are mostly Travellers
Sadly, one of the recently freed Abuja-Kaduna train attack Victim was killed while on his way to reunite with his family in Kebbi state after six months in captivity. The victim was among the last batch of victims rescued by the military last week
The police in Zamfara said it is not leaving any stone unturned in the fight against criminality
Meanwhile, the Command has again recorded another success by confiscating a truck load of hard drugs, food stuff and other items meant for delivery to bandits around Dangulbi and Magami area
Parading the suspects at the Zamfara Police Headquarters in Gusau, Spokesperson of the command Suppritendant Mohammed Shehu said Nine Suspected Bandits, a gun runner and other Suspects involved in various crimes were arrested.
"Police Detective of the Zamfara Command in collaboration with vigilante acted on intelligence information that, a truck driven by the one Salisu Adamu aged 35 was loaded with exhibits such as Hard Drugs, Penta Injection, Tramadol Tablets, Chloroquine Injection, Exzol Tablet and cartoons of beer on transit from Kano to Dangulbi area in Maru Local Government area are meant for supply to bandits operating in the bush" Shehu said.
"The driver was arrested with the exhibits and now undergoing discreet investigation with a view to arresting his partners in crime" he added.
Mohamed Shehu again speaks on the rustled Cattle: "Police Detectives attached to Anti Violence Section while on patrol along Gusau – Wanke, road acted on intelligence information and arrested Suspects by name Musa Umar age 54 and Idris Yaro aged 40 conveying nine rustled cows in a truck. In the course of interrogation, the suspects could not give satisfactory account of the cows nor presented any relevant documents that will legitimize their ownership"
"Discreet investigation is in progress and we will charge all those involved to court for possible interrogation" Shehu Maintained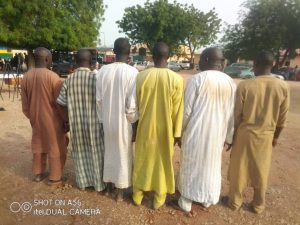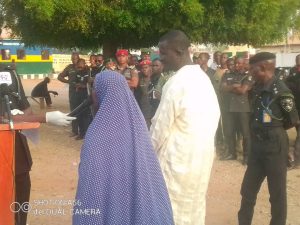 A female Bandit informant and two Suspects in connection with criminal conspiracy and intimidation to wit Kidnapping were also arrested
The police clears the air on some of issues. "On the 6th October, 2022, Police Tactical Operatives acted on intelligence information and arrested the above named suspects who were allegedly collaborating with notorious bandits from Munhaye forest in Tsafe LGA. One of the suspects, Hauwa'u Usman, a female residing in Gusau confessed that Ali and Hamza are her younger brothers and are among the bandits who based in Munhaye forest terrorizing communities of Tsafe and neighbouring Katsina State"
"Intelligence information about her revealed that she has been an informant to her two younger brothers (Bandits) in the bush. Even though, she denied fraternizing with them, but she indicted the second suspect Aliyu Mamuda to be the supplier of drugs, food stuff, operational motorcycles for banditry and hiring labourers for the bandits to go and farm their farmlands in the bush.
"On 7th October, 2022, Police Tactical Operatives attached to CP's Monitoring Unit State headquarters acted on intelligence information and arrested the above named suspects. One of the suspects Mubarak Yusuf confessed to have connived with his gang members Ibrahim Rabi'u and Aliyu Buzu now at large, called his uncle and and his neighbor and intimidated them to either give them the sum of Five Million Naira (N5,000,000) and Four Million Naira (N4,000,000) or risk kidnap," Police said.
The second suspect Ibrahim Rabi'u also confessed to the crime and further stated that, apart from engaging in this crime, he also specializes in fraudulent act where he severally called innocent people and claimed to be a spirit that makes people to be rich, and collected money on three different occasions in the name making them rich"
Again, on 6th October, 2022 Police Detective of the Command while on patrol along Gusau – Wanke road intercepted a suspect name Abdullahi Sani 28years of age in possession of 250 rounds of 47AK Ammunition
The suspect confessed to have been sent by a notorious bandits called Ladan with sum of One Million One hundred and ninety Thousand Naira (N1,190,000) to be delivered to the arms supplier who were to hand over consignment to him to deliver to the bandit leader, before nemesis caught up with him and arrested by the Police.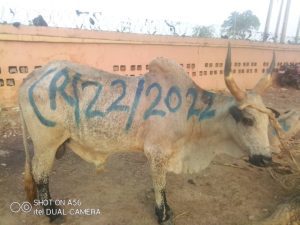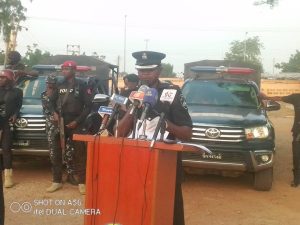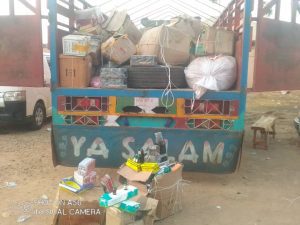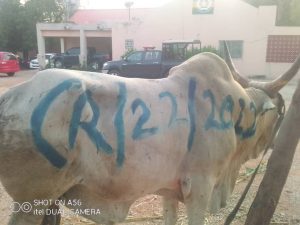 The Zamfara police further said it has repel bandits attack in three LGAs of Shinkafi, Bukkuyum and Tsafe
"Our Tactical Operatives of the Command while on rigorous patrol in some trouble locations in Tsafe, Bukkuyum and Shinkafi LGAs received series of distress calls from communities on plan by bandits to attack their villages. In response to the distress calls, the operatives succeeded in repelling most of the planed attacks where serious exchange of fire between the bandits and the Police operatives ensued, forcing the bandits to flee with possible gunshot wounds sustained. In the course of search at the scene, the above mentioned arms and other exhibits belonging to the bandits were recovered"
Items recovered includes one AK-49 Rifle, an AK 47 rifle, one Lar Rifle, a cutlass and bunch of assorted charms
Normalcy has since been restored in the affected areas, while confidence building patrol is being sustained.
The police adds intelligence report led to the Successes and troops in collaboration with sister agencies are working hard to rid Zamfara of all forms of crime.