The Speaker of the House of Representatives, Femi Gbajabiamila  has made some far-reaching proposals to the Ghananian government that would bring an end to the attacks on Nigerian traders doing business in Ghana.
During a 'Legislative Diplomacy' bilateral meeting with Ghanaian lawmakers and some top government officials as part of his ongoing visit to Ghana to resolve the crisis, Femi Gbajabiamila advocated for an amicable settlement of trade disputes through arbitration and fair judicial processes.
The Speaker also said he would be glad to champion a law to improve the bilateral trade relations between Nigeria and Ghana, noting that citizens of the two countries remain brothers and sisters.
He called on Ghanaian authorities to revisit the component of the law that requires a capital base of $1 million for businesses to start, saying as Africans, Ghana should encourage brotherliness.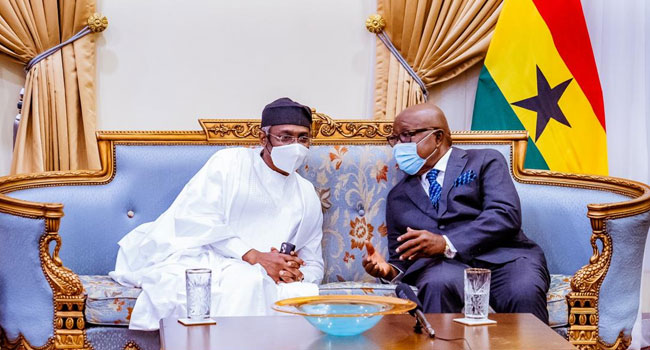 Meanwhile, the speakers said he is hopeful that Nigeria and Ghana will arrive at mutually acceptable resolutions to the trade disputes that erupted some weeks ago.
The speaker who led a delegation of lawmakers on a diplomatic mission to Ghana spoke when they were received by his Ghananian counterpart, Mike Oquaye.
Mr Femi Gbajabiamila said the two-day visit to Ghana is meant to explore legislative diplomacy towards resolving the issues affecting both countries.
Alongside the Speaker on the mission to Ghana are the Chairman House Committee on Foreign Affairs, Buba Yusuf; Chairman House Committee on Media, Benjamin Kalu; and House Members of ECOWAS Parliament.