There is currently no new case of Coronavirus in Nigeria as the two more foreign nationals suspected to be carrying the novel Coronavirus from a high-risk country in Asia have tested negative in Lagos State.
Governor Babajide Sanwo-Olu, disclosed this at an advocacy meeting held at the Banquet Hall of the Government House in Alausa.
He explained that a series of medical examinations conducted on the two patients, who were brought from Ogun State over the weekend, did not show any sign of the Coronavirus infection.
The minister of health has also confirmed that there is only one case of the Coronavirus in the country and the focus is now on containment efforts, especially those who had contact with the Italian who tested positive last week.
Advertisement

Nigeria confirmed its first case of the Novel Corona virus On the 27th of February 2020,.
Since then health authorities as well as government have been battling to keep the situation under control.
Some Nigerians still have doubts over the capacity of the federal to contain the spread.
But health authorities have urged citizens not to panic, as the country has procured high quality facilities to detect any suspected case of the Virus.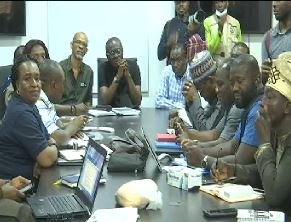 The Minister of health said it is keeping tabs on those that have been in close contact with the Victim with a confirmed case of the virus , and is working tirelessly to contain the spread.
Nigerians have been advised to take adequate precaution against the virus by washing their hands regularly, using hand sanitizers and observing proper hygiene measures to avoid contracting the disease.