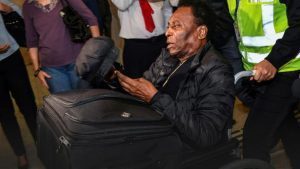 Son of Brazilian Football Legend, Pele has revealed the Iconic footballer is battling depression and reluctant to make public appearances due to his poor health.
Widely considered to be one of the greatest footballers in history, Pele has had problem with his hip for years with many of his recent public appearances done on a wheelchair.
His son, Edinho has explained his father feels very embarrassed about his declining health condition and feels reluctant to leave home, because he cannot walk unaided.
The 79 year Old Pele is the only player to have won three FIFA World Cups with Brazil in 1958, 1962 and 1970.