The Chief executive of the Wor;d Health Organisation, Tedros Adhanom said the world is running out of masks and other protective equipment against the novel, coronavirus.
Tedros said the prices of some items have become 20 times higher than normal, and the problem is being made worse by "inappropriate use" of masks by people who are neither sick nor medical staff, and that has now depleted stockpiles.




The United States on Friday offered up to $100 million to China and other impacted countries to combat the fast-spreading coronavirus.
The aid pledge comes after Beijing criticized the US response to the health crisis, saying that Washington has been spreading "panic" by banning the entry of foreign nationals who travelled to China.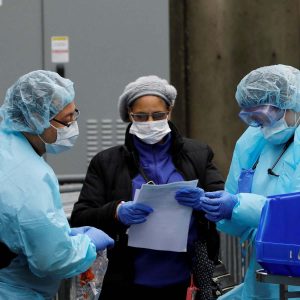 Meanwhile, the deadly Coronavirus seemed to be spreading faster as Mainland China reported about 86 fatalities in one day.




According to China's National Health Commission, a total of 722 people have died from the virus and nearly 35,000 are infected. Also, a 60-year-old United States citizen has died from the virus.




Two persons had been reported dead outside mainland China, one in Hong Kong and another in the Philippines, and at least 27 countries have confirmed cases.
Advertisement

The majority of new cases reported are in Hubei and its provincial capital Wuhan.
But President Donald Trump on Friday praised China's response as "very professional" after he spoke by telephone with his counterpart Xi Jinping.