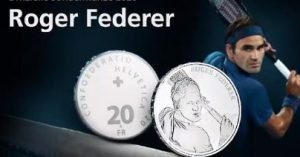 Tennis Legend Roger Federer is to become the first living Swiss to have a coin minted in his honour.
Authorities say a commemorative 20 franc silver piece bearing his image will be issued in January.
The 38-year-old 20-time Grand Slam champion is regarded by many as the greatest tennis player ever and is a national hero in Switzerland.
Swissmint confirmed that 55,000 of the coins, featuring Federer delivering a backhand, will be produced and will be available for pre-order.
With demand expected to be high, Swissmint will produce another 40,000 coins that could be issued in May.