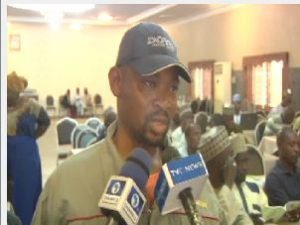 Micro, Small and Medium Enterprises are considered by experts as important part of the Nigerian Economy, contributing a much higher proportion to the country's Gross Domestic Product.
TVC News Kano Correspondent Ibrahim Isah reports that Micro, small and medium enterprises exist in almost all parts of the country. Their engagements contribute immensely to the growth of the economy.
Like many others, they face numerous challenges in the cause of running their businesses.
Experts converged on Kano State, Northwest Nigeria alongside some micro, small and medium entrepreneurs to synergize and strategize on how to mitigate the problems.
Advertisement

Micro, Small and Medium Entrepreneurs at the event express delight at the development. They believe meetings like this would grant them access to the markets and finance, for them to excel in their businesses.
Micro, small and Medium Enterprises in Nigeria are generally faced with such problems as inefficient management capacity, limited range of
products, and lack of infrastructure.
Both the entrepreneurs and Government officials are hopeful that such challenges can be overcome if areas of collaboration between the two
parties, are further explored
Advertisement