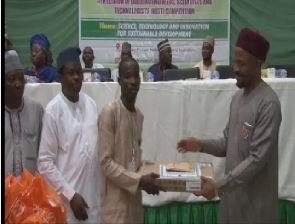 Thirty students across tertiary institutions in the country have won various awards for outstanding innovations in the Budding Engineers, Scientists and Technologists competition.
The Minister of State for Education, Chukwuemeka Nwajiuba who handed the awards to the students at the 4th edition of BEST competition in Abuja,
urged the students to help the country in solving her problems through their initiatives.
Nigeria is a nation in the quest of social ,economic and political transformation through the benefits of science and technology.
It is a major consumer of products and services which rank among the technologies but contribute little to their Development.
To encourage creation of Innovation and technology in the Country, the national council of education set up a Budding Engineers, Scientists and
Technologists competition in higher Institutions.
The Competition is to ignite the creativity in students and encourage them to come up with innovations.
At this gathering, thirty students from various tertiary institutions are rewarded for their outstanding Innovations.
The government urged them to come up with outstanding Innovations that will help solve national problems.
A Prize of three hundred thousand naira was presented for the best project in addition to consolation prizes.