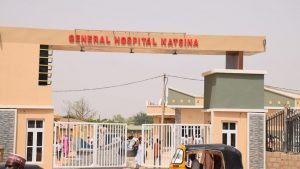 The Turai Yar'adua Maternal and Child Hospital in Katsina has been rated as one of the top government health facilities for childbirth, with a record of close to 600 births every month which has helped in reducing infant and maternal mortality.
TVC News correspondent, Abdullatif Yusuf reports that there has been relative success in persuading pregnant women in Katsina state to seek health facilities for child deliveries through incentives and provision of free delivery packages by government and donors
In furtherance of this, the wife of the Katsina state Governor Hadiza Massari donated medical and sanitary items to this health facility
The rise by governments and philanthropic organizations to see to drastic reduction of maternal and child death in hospitals can be seen
as a Motivation to health workers as well.
For the Governor's wife the gains of quality health, care can only be reaped if the populace patronises hospital service. The need to complement Government in its effort in the provision of quality health care is looming due to the increasing population.