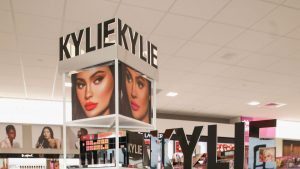 Hollywood reality TV star Kylie Jenner has sold a majority stake in her cosmetics business after being named the youngest ever self-made billionaire earlier this year.
The 22-year-old sold 51% of her share for a reported $600 million (£460 million) to makeup and fragrance giant Coty Inc
The deal now values her company at $1.2 billion dollars.
Coty inc, which owns huge cosmetics brands including MaxFactor, Rimmel and Clairol, said the deal will still allow Jenner to "lead all creative efforts in terms of product and communications initiatives".
The chairman of Coty's board called Jenner a "modern-day icon, with an incredible sense of the beauty consumer".
The company also cited Jenner's 270 million social media followers as a huge factor in her success.
Kylie shared the good news on her twitter handle and also said: 'I'm excited to partner with Coty to continue to reach even more fans of Kylie Cosmetics and Kylie Skin around the world.
'I look forward to continuing the creativity and ingenuity for each collection that consumers have come to expect and engaging with my fans across social media'.