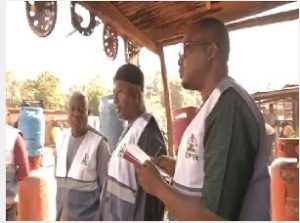 The Department of Petroleum Resources, has clamped down on illegal fuel and gas stations in the state over noncompliance with operational standards.
The move is to curb fuel and gas related disasters and reduce shortchanging of customers patronizing the products.
Godwin Agwam reports that the illegal operation of fuel and gas stations in Nasarawa State, has had grave consequences on the socioeconomic wellbeing of people of the state.
Some of these illegal operators are unlicensed, adjust metres against the recommended rates, locate their stations in unrecommended areas and have
untrained manpower.
Advertisement

The Department of Petroleum Resources in its previous operations in the state had frowned at these infractions and sealed several stations for
noncompliance.
To achieve absolute compliance, the DPR it has embarked on another operation, to clampdown on illegal operators in the state's capital, Lafia.
The DPR also trained staff of filling stations on the use of fire extinguishers in the event of fire mishaps. Locales in the state see the operation as a step in the right direction, which will bring sanity to the sector.
The department has issued a stern warning to all illegal operators in the state, to adopt the required standards of operation or face the law.
Advertisement