President Muhammadu Buhari arrived in South Africa on Wednesday for a state visit after an outburst of xenophobic violence in and around Johannesburg stirred tensions between Africa's leading economic powerhouses.
The Presidential jet touched down at the Waterkloof Air force base, Pretoria, at about ten minutes past nine pm local time
He was received by a delegation including top government functionaries and other dignitaries.
The Nigerian President in the course of his state visit, will sit in talks with his host President Cyril Ramaphosa.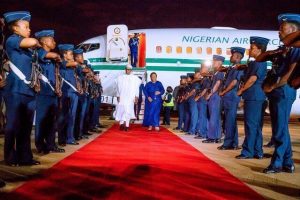 President Buhari and President Cyril Ramaphosa will meet today to discuss bolstering trade ties and political cooperation as both struggle to kickstart their stuttering economies. But the recent violence in the country targeting foreigners — including Nigerians — threatens to dominate the talks.
Buhari was met by Minister of International Relations and Cooperation Naledi Pandor after his arrival at the Waterkloof military base in Pretoria.
President Buhari will also attend a bi-national commission meeting along with President Ramaphosa where crucial agreements will be signed.
The President will equally attend a business meeting and a town hall meeting with Nigerian nationals in South Africa before he returns to Nigeria on Friday.