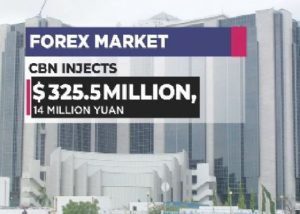 The central bank of Nigeria has injected $325.5 million and 14 million yuan into the foreign exchange market in an effort to keep it stable and prevent shortages.
CBN Director, Corporate Communications, Isaac Okoroafor said the dollar intervention was for agricultural machinery and industrial raw materials, while the yuan was for renminbi-denominated letters of credit.
Mr. Okoroafor adds the bank would continue to ensure adequate liquidity in the market.
Advertisement

According to him, the Small and Medium Enterprises (SMEs) and the invisibles segments received the sum of 55 million dollars each.