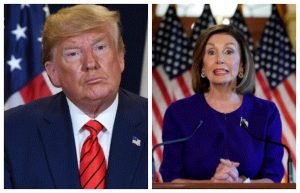 U.S. Democrats have opened a formal impeachment inquiry into President Donald Trump over allegations he sought help from a foreign power to damage a political rival.
Top Democrat Nancy Pelosi said the president "must be held accountable".
Mr Trump denies impropriety.
Advertisement

While there is strong support from Democrats on impeachment, if the inquiry moves forward it is unlikely to pass the Republican-controlled Senate.
The row was sparked by reports an intelligence whistle blower lodged a formal complaint about a phone call President Trump made with Ukrainian counterpart Volodymyr Zelensky.
Meanwhile, at the UN General Assembly in New York, Trump tweeted that he would release a full transcript of his call with Zelenskiy.
Earlier Tuesday, the Republican-controlled Senate approved a nonbinding resolution calling on the Trump administration to provide the House and Senate intelligence committees with a copy of a whistle blower complaint.
Advertisement