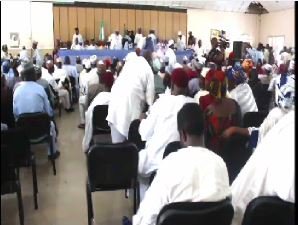 The All Progressives Congress in Adamawa state has set up a 39-man central steering committee to reconcile the three major contending factions. Party leaders said it is time to mend fences after prolonged infighting cost them the governorship and majority legislative seats in the 2019 general
election.
Correspondent Owolabi Adenusi reports that the All Progressives Congress could have had a better outing in the last general election. But the losses of the party were perhaps not due to better strategy by the opposition, but a divided house.  That much party leaders agree on.
But they say it's time to restore the APC to a more solid footing for bigger conquests.
A number of party bigwigs are to undertake the assignment, including a former interior minister, Abdulrahman Adamu who will serve as chairman and the secretary to the government of the federation, Boss Mustapha, as well as minister of the Federal Capital Territory, Musa Bello will serve as co-chairmen.
Former gubernatorial aspirant of the APC, Mallam Nuhu Ribadu and other stakeholders, are confident, the desired peace will be achieved. Ribadu gave reasons why former governor Murtala Nyako, a founding father of the party, could not be at the meeting.
Former Secretary to the government of the federation Babachir Lawal and Brigadier Buba Marwa were not at the meeting but sent representatives. The committee was set up at the instance of the North East zonal vice chairman of the party.