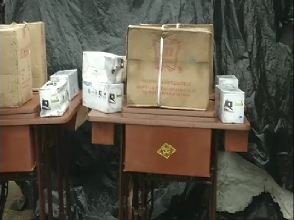 Delta State Governor, Ifeanyi Okowa has commended the Isoko National Youth Assembly, for training and empowering 45 young persons in various vocations.
He said the project is in line with his administration's drive to create jobs  through its skills acquisition and entrepreneurship.
TVC News Ikenna Amechi reports that Delta state has a youth population of at least 1.2 million, a number with the potential to turn things around economically.
But even without relevant skills and available jobs, the government's attempt to invest in the youth and create a knowledge-based space is gaining traction.
Advertisement

The Delta State governor, represented by Commissioner for Youth Development, commends the effort of the group because according to him, the Isoko Youth were keying into the governor's vision for youth empowerment in the past four years.
The joy of the Isoko youth doubtless goes beyond the training of some unemployed youth among them. The foundation-laying for their Secretariat complex at Ozoro by gov Ifeanyi Okowa has given reason to carry out projects.