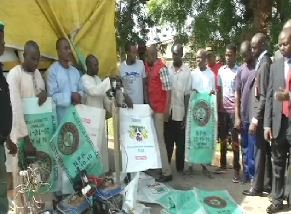 The Economic and Financial Crimes Commission has uncovered a syndicate which specialises in the manufacture and sale of adulterated fertilizer. Head of operations of the commission in the zone which covers Gombe, Bauchi and Taraba states revealed this during an interaction with journalists.
From Katsina to Gombe, Jigawa to Bauchi State, the operations of the syndicate that specializes in adulterating fertilizers is sophisticated and
extensive.
The special sand is brought in from katsina, other materials from Jigawa, mixed in Gombe with storehouses in several locations including Bauchi state
With the federal government's push for food security through agriculture, sand sold as fertilizer is considered by these operatives as economic
sabotage.
The product looks exactly the same as normal fertilizer. No one knows how many farmers have been affected and livelihood destroyed.
Security agencies must intensify efforts to rid the society of these elements who are not bothered about robbing even the poorest of the poor.