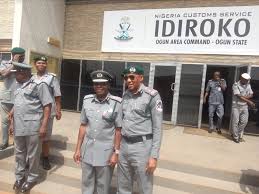 The Nigeria Customs Service has unbundled the Ogun State Command into to two area commands -One and Two, to strengthen the administrative procedure of the service.
As the Gateway state of Nigeria with International border at Idiroko, men of the Nigeria Customs Service in Ogun State are always busy fighting smugglers.
The Command has continued to mount pressure on smugglers by reducing their activities at the border area.
Although, the approach has led to attacks on men of the Nigeria Customs service, the Comptroller, Micheal Agbara said his men will not relent. He noted that the management of the Customs Service has created two area commands at Idiroko and Abeokuta, adding that area I will deal with issues relating to regulation and enforcement of all import, export and anti-smuggling activities; while Area II will be saddled with the responsibilities of enforcing and regulating all Excise and parcel post related matters.
On other achievements of the command, the Comptroller noted that some notorious smugglers have been arrested and prosecuted.
The Comptroller also confirmed that in the area of anti-smuggling it has made 102 seizures comprising of 7, 800 bags of foreign parboiled rice, 23 units of vehicles, 32 kegs of vegetable oil and 201 pairs of used tyres in the period under review.
He urged Nigerians join them in the fight against smugglers in order to boost the economy of the Nation.