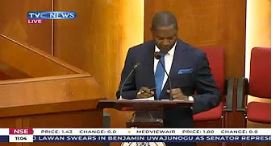 The Senate has resumed screening of Ministerial Nominees sent to it by President Muhammadu Buhari.
The former Minister of Justice and Attorney General of the Federal, Abubakar Malami, from Kebbi state is currently being screened by the lawmakers.
The exercise which began on Wednesday, has so far seen 24 nominees screened, remaining 19. The lawmakers suspended their annual recess  in order to screen the ministerial nominees.
President Muhammadu Buhari had on Tuesday sent names of 43 ministerial nominees to the Senate for confirmation.
---
Abubakar Malami, while responding to questions, said his task as the Attorney General of Federation and Minister of Justice, is to ensure corruption fight is  intensified.
The Office of AGF is meant to protect the Public  – Malami
The Office of the Attorney General under my watch has been able to protect the Public from undue interference in the fundamental human Rights – Malami
—————————————————————————————————————————————————————–
Hadi Sirika from Katsina state is the next ministerial nominee to be attended to is .
He was the immediate past Minister of State Aviation.
He is currently being welcomed by the President of the Senate, Ahmed Lawan.
Nominee Hadi Sirika is the second nominee to be screened today.
He is currently giving his opening remarks, his educational background, experiences and what he was able to achieve as the immediate past Minister of state Aviation
---
Ministerial nominees screened so far
1.      Uchechukwu Ogah (Abia)
2.      Godswill Akpabio (Akwa Ibom)
3.      George Akume (Benue)
4.      Ogbonnaya Onu (Ebonyi)
5.      Emeka. Nwajuaba (Imo)
6.      Olorunnibe Mamora (Lagos)
7.      Olamilekan Adegbite (Ogun)
8.      Adamu Adamu (Bauchi)
9.      Rotimi Amaechi (Rivers)
10.  Sharon Ikeazor (Anambra)
11.  Tayo Alasoadura (Ondo)
12.  Mustapha Shehuri (Borno)
13.  Abubakar Aliyu (Yobe)
14.  Bashir Magashi (Kano)
15.  Ramatu Aliyu (Kogi)
16.  Timipre Sylva (Bayelsa)
17.  Zubairu Dada (Niger)
18.  Chris Ngige (Anambra)
19.  Abdullahi Hassan (Nasarawa)
20.  Sunday Dare (Oyo)
21.  Muhammad Bello (Adamawa)
22.  Sadiya Farouq (Zamfara)
23.  Zainab Ahmed (Kaduna)
24.  Adeniyi Adebayo (Ekiti)
25.  Abubakar Malami (Kebbi)
26.  Hadi Sirika (Katsina)
Senate goes on break to enable Muslim lawmakers observe Juma'át prayer. The lawmakers will reconvene at 4pm
---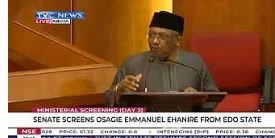 Senate returns from break, resumes ministerial screening with Dr Osagie Ehanire  from Edo state.
Ministerial Nominee Dr Osagie Emmanuel Ehanire  has been screened and left the Senate chamber.
————————————————————————————————————————————————————————-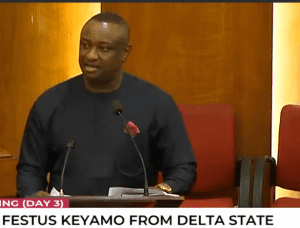 Ministerial nominee Festus Keyamo has been screened and left the Senate.
 Keyamo: Governance is activism. I don't want to die without making a loud statement for the poor and downtrodden
Keyamo: We cannot give the AGF the power of the judiciary
Keyamo: Let's give magistrates power to grant bail if there is no proof of evidence
Keyamo takes a bow
——————————————————————————————————————————————————————————
Pauline Kedem Tallen (born 8 January 1959) was the next ministerial nominee who was screened after Festus Keyamo. In 1999, She got a degree in sociology at the University of Jos in 1982.
Tallen's political career started in 1976, when she was the clerical officer at Shendam local government council, then later ministry of local government affairs. In 2011, she joined Labour Party, then contested in the gubernatorial election of the state. By 1994, she was made a councillor in Plateau State. She was made commissioner in the state by the military government between 1994 and 1999.
In 1999, she was appointed Minister of state for science and technology, becoming the first woman to be appointed as a minister in that capacity by former president, Olusegun Obasanjo.
In 2007, She became the deputy governor of Plateau State and the first woman to be a deputy governor in northern Nigeria. she also contested to be governor of the state in 2011, but lost to Jonah Jang. She is a board member of National Agency for Control of Aids (NACA)
Before 2015 general elections, she decamped from PDP to APC, a move she believed angered some people in her state. However, she described the move as a calling from God, with no regrets. In 2015, she rejected an ambassadorial nomination by President Buhari, citing federal character and zoning in her state as reasons.