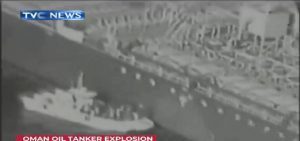 The U.S. military has released a video which it says shows Iran's Revolutionary Guard removing an un-exploded mine from the side of an oil tanker damaged in an attack in the Gulf of Oman on Thursday.
The U.S. said the footage showed Iran's Revolutionary Guard "removing un-exploded limpet mine" from the side of the Kokuka Courageous ship more than eight hours after the blasts occurred.
In a statement released on Friday, the Iranian mission to the United Nations said that it condemned the allegation "in the strongest possible terms".
The blasts came a month after four oil tankers were damaged in an attack off the coast of the United Arab Emirates.
The U.S. blamed Iran for that attack, but did not produce evidence. Iran denied the accusations.