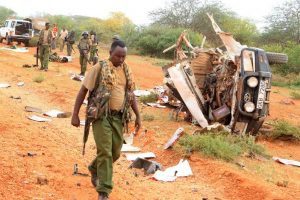 At least eight Kenyan police officers have died after their car hit a roadside bomb near the Somali border.
Eleven people were in the car when it hit the device in east Wajir county. The fate of the others is unclear.
No-one has admitted planting the explosives.
Authorities say the police had been pursuing suspected Al-Shabab Islamist militants fighting Somalia's government and its backers, including Kenya.
Al-Shabab have been fighting Kenyan troops because of Kenya's support for the Somali government
The al-Qaeda-linked group has been trying to overthrow the Somali government for years.