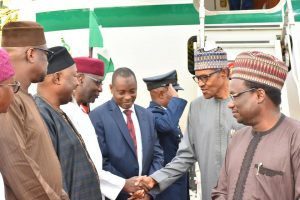 President Muhammadu Buhari has returned to Nigeria from Saudi Arabia after attending the
57-member summit of the Organisation of Islamic Cooperation in Makkah, to discuss issues of common interests to the countries, as well as their stance on global issues.
He addressed the summit on the need for member countries to unite and work together to combat terrorism and violent extremism.
But his attendance caused a lot of furore back home, with the Christian Association of Nigeria, calling it unconstitutional.
The President touched down on Sunday evening at the Presidential wing of the Nnnamdi Azikiwe International airport Abuja at 4:30pm
He was received at the airport by the Minister of the Federal Capital Territory Abuja, Mohmammed Bello, Chief of Staff to the President, Abba Kyari and some heads of security agencies.