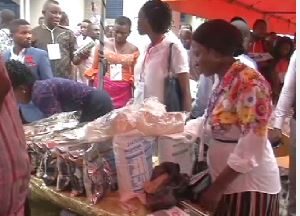 The Bayelsa State Government has said it will support entrepreneurs with viable businesses for growth and development opportunities in the state. At a programme titled "Business Linkage Forum" in Yenagoa, Deputy Governor Gboribiogha Jonah called for patronage of made-in-Bayelsa products to help grow the economy.
Ovieteme George reports that Bayelsa is predominantly a civil service state with little or no presence of multi-national companies exploring and exploiting for oil.
Beyond the popular workforce is a growing interest in Agriculture and craftsmanship seeking exposure for entrepreneurship development in the
state.
Deputy Governor Gboribiogha's message at the Bayelsa Linkage Forum made a case for home-grown and made-in-Bayelsa products.  The theme of the programme is "Inspiring Local Business Growth Through Creating Partnership".