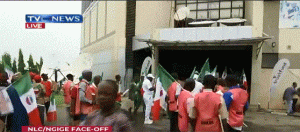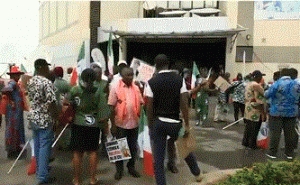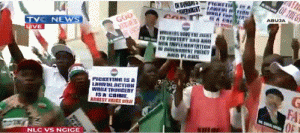 Workers are gathering at the Pascal Bafyau labour house for the protest against the manhandling of their members at the residence of the labour and employment minister, Chris Ngige.
They are also protesting against the replacement of Frank Kokori as Board chairman, NSITF.
Meanwhile, Minister of Labour and employment, Chris Ngige is set to inaugurate the board of the NSITF this morning at the presidential villa, away from the glare of the protesters.
NLC President, Ayuba Wabba, says that the protest is to register workers' displeasure at the violence meted on its members who picketed the residence of Labour and Employment Minister, Chris Ngige last Wednesday.
Meanwhile, President Buhari has redeployed former unionist, Frank Kokori, to head the board of the Michael Imoudu National Institute for for Labour Studies.
Minister of Labour, Chris Ngige refused to to swear in Mister Kokori who was initially named the chairman of another government parastatal, to the board of the Nigeria Social Investment Fund.
The labour minister's refusal pitted him against members of the Nigeria Labour Congress.