Sri Lanka Government has declared Tuesday April 23 a national day of mourning as families begin to bury their dead following Sunday's bomb blasts.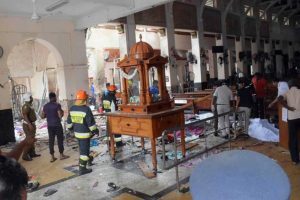 Two days on from the devastating attacks that targeted churches and tourist hotels in Sri Lanka's capital, Colombo, and two other cities in the island nation, its citizens are still coming to terms with the magnitude of the tragedy.
Authorities in Sri Lanka believe the bombings that killed more than three hundred people and injured about five hundred others were carried out with the support of an international terror network.
Th country's Police Media Spokesperson, Ruwan Gunasekara said about 40 suspects have been arrested in connection with the Easter Sunday bombings, adding that all of those in custody are Sri Lankan.
Advertisement