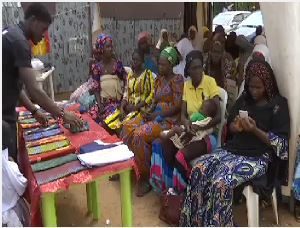 The National  Commission for Refugees, Migrants and Internally Displaced Persons has empowered 79 internally displaced persons at the Durumi camp in Abuja.
The Commissioner says the gesture is to help them be self dependent, generate income and regain their dignity.
Moyo Thomas reports that 72 women and 7 men graduated from the month long skill acquisition training, and starter packs and start-up capital were distributed for the trainees. The people were trained in self sustaining skills such as tie and dye and soap making.
The Commissioner, Sadiya Umar-Farouq said this will enable the integration of the internally displaced persons back into a functional system.
The commission has trained over 1000 internally displaced persons across 31 locations spanning 9 states with same gesture of empowerment
This is to fulfill its mandate of providing assistance,  protection and durable solutions to internally displaced,  refugees and other migrant groups.